I don't know if could say that this Hot Dog Rice is a traditional Brazilian dish,  but it is a common dish in our homes. Why? Maybe because this is a cheap dish or because it's easy to make. I believe in both reasons, but I would like to add one more: it's so yummy! I would dare to say this is Brazilian comfort food 🙂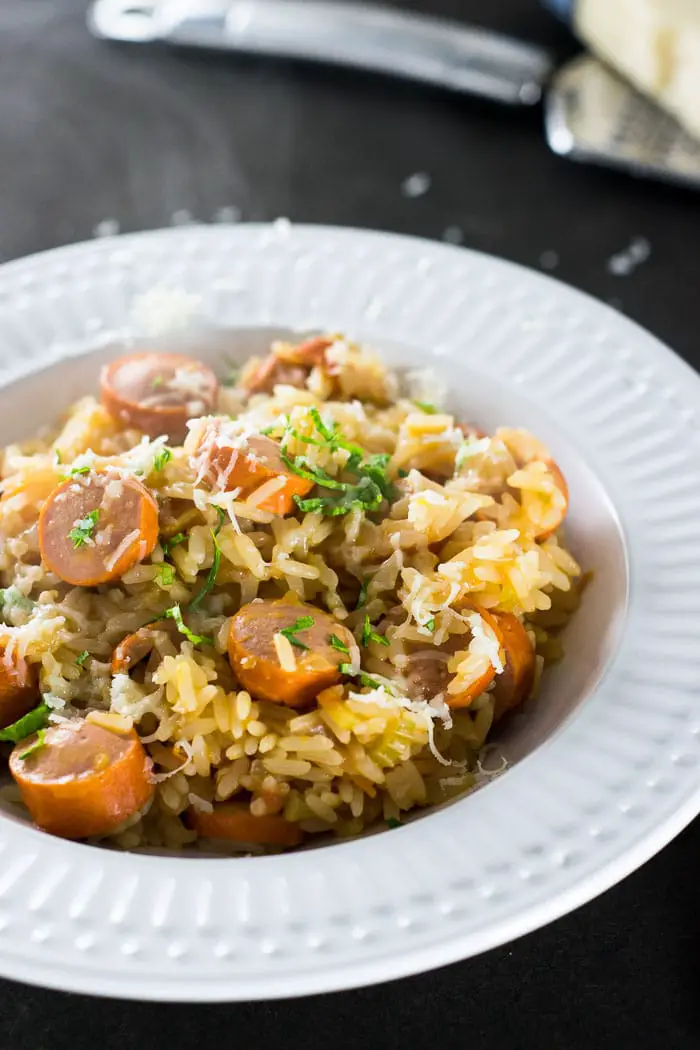 Oh, I just thought of another reason this is a popular dish. What child doesn't like hot dogs? So it pleases the whole family!
For more Brazilian Recipes click here.
Give it a try! This Brazilian Rice with Hot Dog is great option for a weeknight dinner!
Brazilian Hot Dog Rice
Ingredients:
1 tbsp olive oil
1 small onion, chopped
1 celery stick, chopped
4 hot dogs, sliced
2 cups chicken or beef broth
1 cup rice
Parmesan cheese, grated (for serving)
Fresh parsley, chopped (for garneshing)
Instructions:
In a medium pan heat olive oil and cook the onion and celery for 3-5 minutes.
Add the hot dogs and cook for 2 minutes.
Add rice and broth. Stir and let it simmer until rice cooks, about 15 to 20 minures.
Serve with parmesan cheese and garnish it with fresh parsley.