You only need 2 ingredients to make this delicious Mango Ice Cream! It's so easy to make and you don't even need an ice cream maker!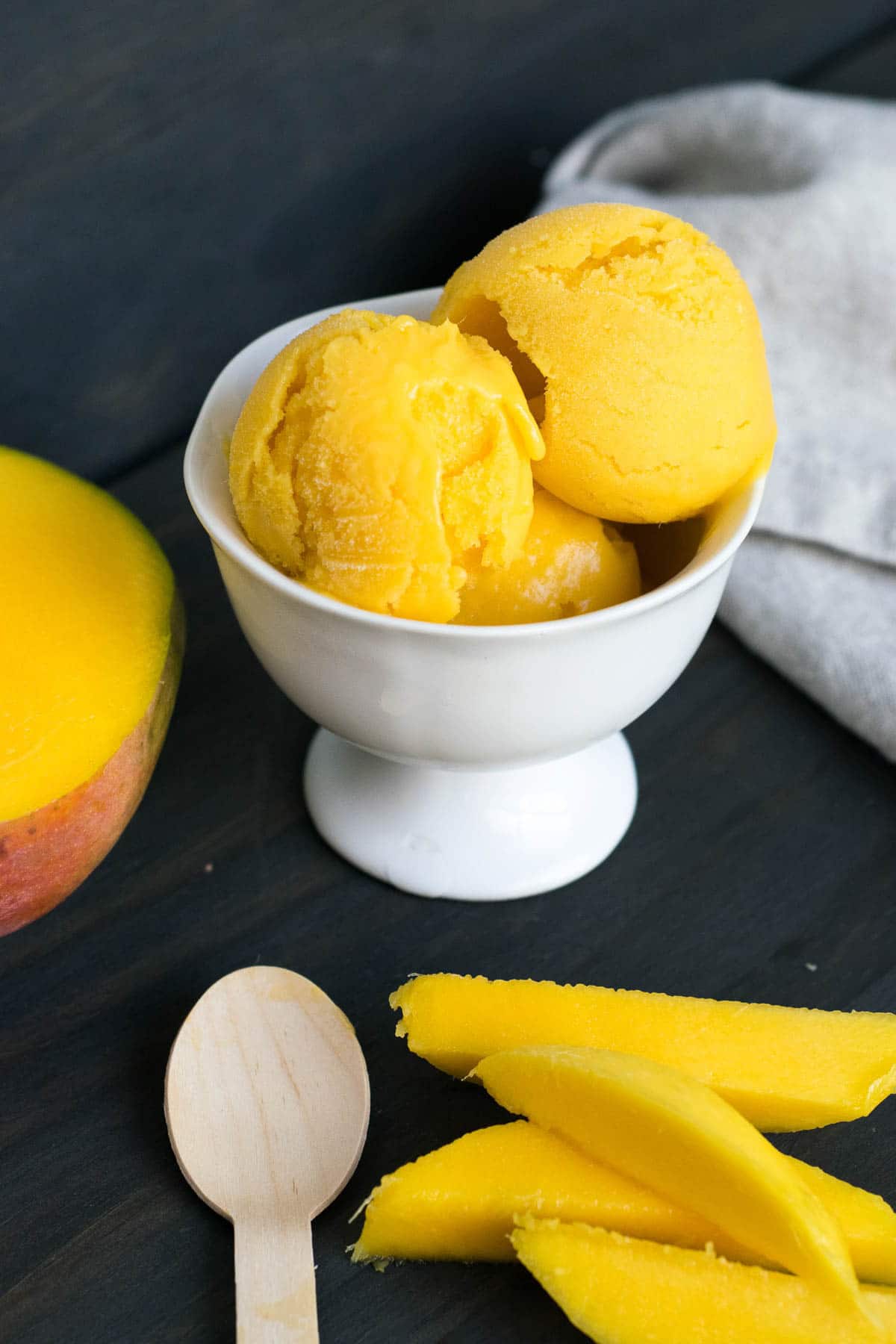 Jump to:
How we fell in love with it
We live in Brazil, but we, well, actually our daughter, fell in love with a mango ice cream when we went to Rome, in winter!
That's right. If you've been to Rome you know that Italian gelato is fantastic and it doesn't matter if the weather is hot or cold. You will have it anyway - and more than one time!
Although she tried other flavors like chocolate, strawberry, zabaglione, it was the mango ice cream from Venchi she fell in love with. Venchi is the name of the shop, and you can find many shops throughout Rome.
When we got back home she kept on saying how she missed that ice cream and kept asking if we could make it at home.
Only two ingredients?
That's right. We managed to make this mango ice cream with just two ingredients: mangoes and sweetened condensed milk.
The ice cream we had in Rome had such an intense mango flavor that it tasted like there was only mango on it! So for this reason we tried to use as few ingredients as possible to get the same mango flavor intensity.
It was creamy, so we knew that just mango and sugar would not bring us anywhere close to what we were expecting.
Using an ice cream base was out of the question as well. The flavor would not be as intense, neither would be the color.
In our passion fruit mousse we use only sweetened condensed milk, heavy cream and passion fruit concentrate juice, so we decided to give this a try - using fresh mangoes, of course.
It was still off because we could feel the fat from the cream, and the flavor wasn't all we were hoping for. But it was creamy though!
For the next try we left out the heavy cream and used only mangoes and sweetened condensed milk.
And it was perfect! It might not be as creamy as an ice cream, but the flavor was fantastic!
🍳 How to make it
Making this mango ice cream is very easy!
Peel and pit the mangoes then blend them with sweetened condensed milk.
Transfer to a freezable container, place it in the freezer and let it rest there until frozen.
💭 Important tips
Some key information regarding this recipe:
To achieve a great mango flavor use very ripe and juicy mangoes.
Any variety will work. We used Tommy mangoes - the ones that are widely available here in Southern Brazil.
The amount of sweetened condensed milk will depend on how ripe the mangoes are, and their taste as well.
Since the mangoes are fresh, after the ice cream is frozen you might see some ice crystals. That did'n bother us at all and it did not interfere with texture. Our main goal was the flavor, and that was spot on!
You can make it in an ice cream maker. The ice cream will be even creamier.
Before scooping, let the container sit at room temperature for about 5 minutes. The ice cream will become softer and easier to be scooped.
📖 Recipe
We think you might enjoy this passion fruit mousse.
2-Ingredient Mango Ice Cream
A super easy packed with flavor mango ice cream
Ingredients
2

mangoes

as ripe as possible cut into large chunks

1/2

cup

sweetened condensed milk
Instructions
Peel and pit the mangoes, then slice them.

In a blender place the mango and the sweetened condensed milk. *see note 1

Blend well, until no pieces of mango are visible.

Taste, add more sweetened condensed milk if desired and blend for 1 minute more.

Transfer mixture to a container and freeze until firm, about 4 hours. *see note 2

Remove from freezer 5 minutes before serving.
Notes
Note 1: For each mango you should start with approximately 1/4 cup of condensed milk. Blend well and taste. Depending on the sweetness of the fruit, adjust the amount of condensed milk.
Note 2: If you prefer you can use an ice cream maker, so it will be even creamier.
Nutrition
Calories:
247
kcal
|
Carbohydrates:
48
g
|
Protein:
5
g
|
Fat:
5
g
|
Saturated Fat:
3
g
|
Cholesterol:
17
mg
|
Sodium:
66
mg
|
Potassium:
421
mg
|
Fiber:
2
g
|
Sugar:
47
g
|
Vitamin A:
1629
IU
|
Vitamin C:
52
mg
|
Calcium:
160
mg
|
Iron:
1
mg