The first time I made these scones without butter a friend of mine was coming to visit and I really wanted to make some scones. But I realized I didn't have any butter. How was that possible?! But I did not give up and made really good scones!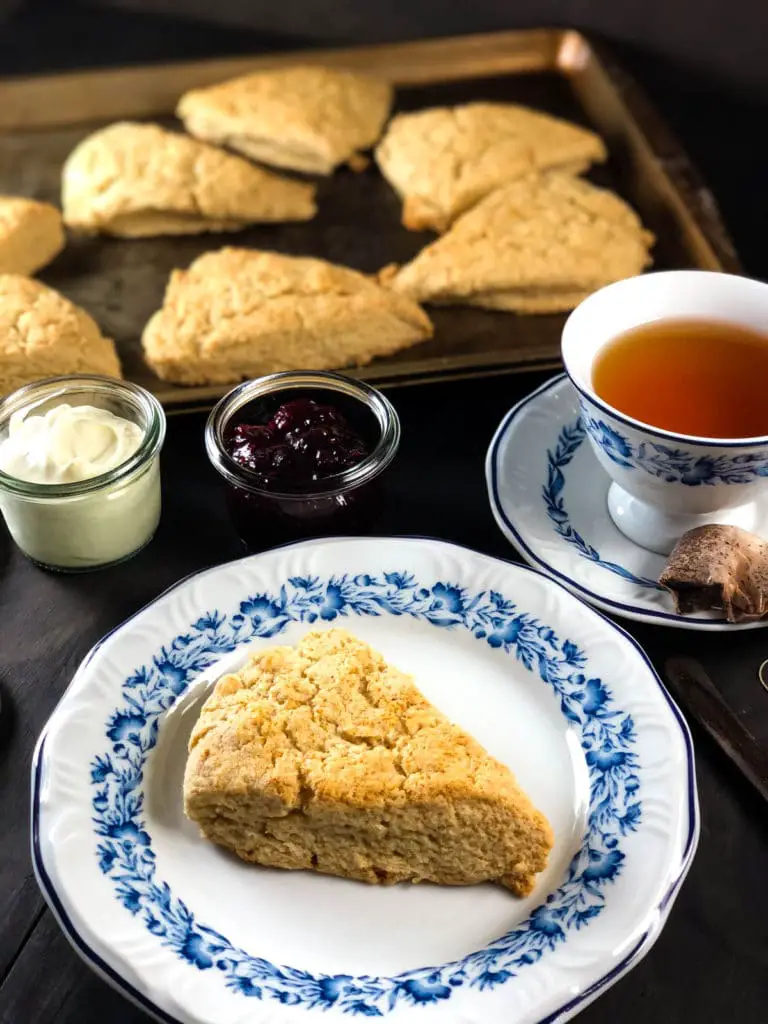 It might seem that a recipe for scones without butter will not work (or have a decent result) but I ended up with the most delicious and fluffy scones I've ever made. This is now my to go recipe for scones!
Jump to:
🧈 What can I substitute for butter in scones?
Altough I thought that I could use oil instead of butter in my basic scones recipe, that was not an idea I wanted to persue. I make a Brazilian Carrot Cake using butter instead of oil because it tastes so much better - and has a much better texture - so that was scratched right away.
I had no butter, but did have heavy cream. If you cam make butter from heavy cream, I could try right?
But no, I did not make my own butter. Not this time at least. I used the heavy cream in the place of the butter and milk in the recipe.
How to make scones without butter
This is a very straightforward and easy recipe for scones. I'm not sure I could even call it a trick, but the key step for baking scones without butter is to not overwork the dough.
It might seem impossible to blend all ingredients in a manner that the dough is not overworked, but with the help of a pastry scraper (or a spatula) it is easy to do.
Making scones without butter
Mix dry ingredients

First add dry ingredients to a medium bowl and mix well.

Add wet ingredients

Then add the heavy cream to the dry ingredients and mix until just combined (some dry ingredients will be on the loose).

Fully incorporate ingredients

Turn mixture on a working surface, and with the help of a pastry scraper (or spatula), gather any dry ingredients and fold over, until fully incorporated.

Shape and cut

Shape dough into a circle of about 1 1/4 inch (3cm) thick then cut in 8 wedges, like a pizza.

Transfer to baking sheet

Carefully transfer each scone to a baking sheet lined with parchment paper and brush each scone with a little of heavy cream. Bake for 15 to 20 minutes.

Cool and serve

Remove from oven, let cool for a couple minutes and serve.
This recipe is for scones without eggs too
Yes, that's right. If for any reason you do not eat eggs, this is a delicious recipe for scones without eggs.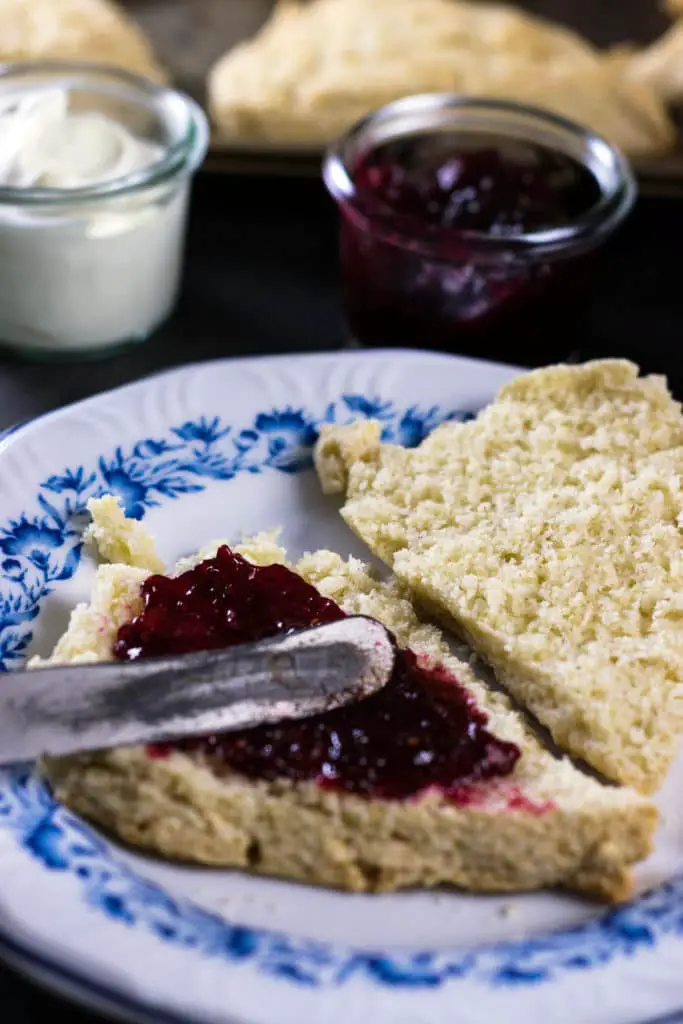 Is this recipe vegan?
Nope. Althought this is a scone recipe without butter or eggs, it is not vegan, as it has heavy cream.
We have not tried yet to make it vegan. We´ll let you know when we do.
Recipe
So, here is my scones recipe without butter.
Scones without butter
It is possible (and easy) to make delicious scones without butter.
Ingredients
Ingredients
2

cups

all-purpose flour

5

tbsp

sugar

1/2

tsp

salt

1

tbsp

baking powder

1 1/2

cups

heavy cream
Instructions
Instructions
Preheat oven to 350F/180C.

Add dry ingredients to a medium bowl amd mix.

Add heavy cream to dry ingredients and mix.

Drop the dough on a working surface and, with the help of a pastry spatula, mix dry ingredients that might have remained separated.

Shape dough into a 1 1/4-inch-thick circle and cut scones as a pizza. Cut the circle in half across, that crossways and then each quarter in half.

Transfer scones to baking sheet lined with parchment paper.

Brush scones with a little of heavy cream and then place in the over.

Bake for15 to 20 minutes or until light golden brown.

Remove from oven, let cool for 5 minutes then serve.
Video
Nutrition
Calories:
298
kcal
|
Carbohydrates:
33
g
|
Protein:
4
g
|
Fat:
17
g
|
Saturated Fat:
10
g
|
Cholesterol:
61
mg
|
Sodium:
322
mg
|
Potassium:
67
mg
|
Fiber:
1
g
|
Sugar:
8
g
|
Vitamin A:
656
IU
|
Vitamin C:
1
mg
|
Calcium:
122
mg
|
Iron:
2
mg