Quick and Easy Fish Tacos Recipe - ready in 30 minutes!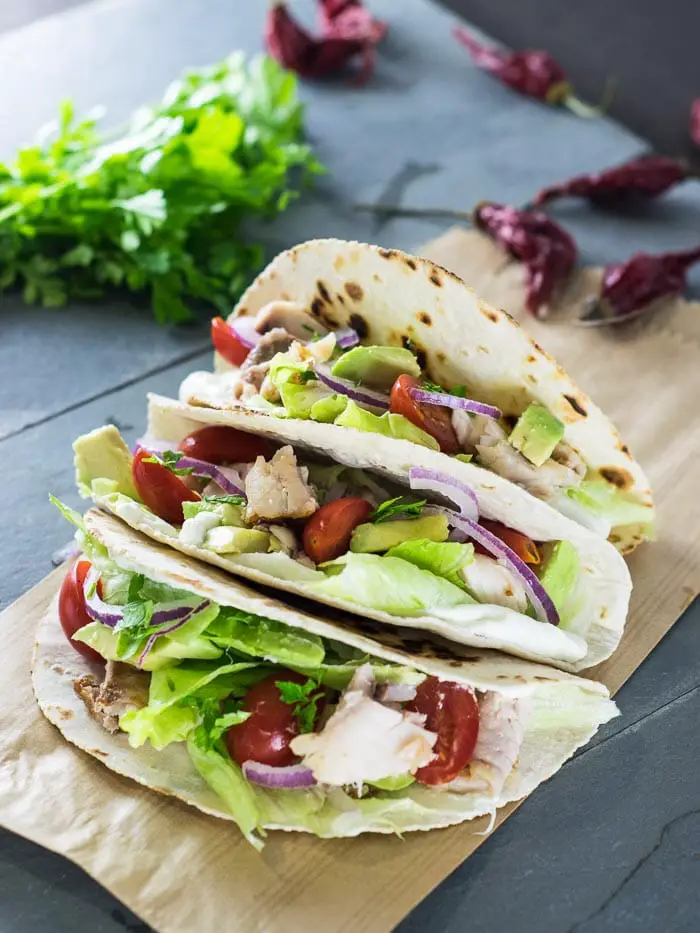 Our last "big trip" was to California, so one of these days we were talking about the great time we had there and thought of making some Fish Tacos, because, in our opinion, they taste and look Californian! So beautiful, colorful and fresh!
With these quick and easy Fish Tacos you will almost feel like you are in California! If you're not already there, of course 😉
Ingredients:
3 fish fillets
1 tbsp olive oil
Salt and pepper to taste (for grilling fish)
1 cup cherry tomatoes, cut in half
1/2 red onion, thinly sliced
1 cup sour cream
1 avocado, chopped
6 flour tortillas
2 cups iceberg lettuce
1/3 cup fresh cilantro leaves
Instructions:
Season fish fillets with salt and pepper. Heat a skillet with olive oil ad grill fish (2-3minutes each side). Cut fish in chunks. Set aside.
In another skillet heat the tortillas on both sides until they start getting lightly crispy. Fold them in half and set aside.
For assembling the tacos take one tortilla, spread 1 tbsp sour cream, some lettuce, a few tomatoes, avocado, onion, fish and a little cilantro. Repeat with others.
You can serve them with a little more sour cream and tabasco sauce.