Last October we traveled to Uruguay by car (remember, I live in Southern Brazil, very close to Uruguay) and stayed 2 full days in Montevideo. Here is everything we did on those 48 hours in Montevideo. I hope you find it helpful on planning your trip to the capital of Uruguay!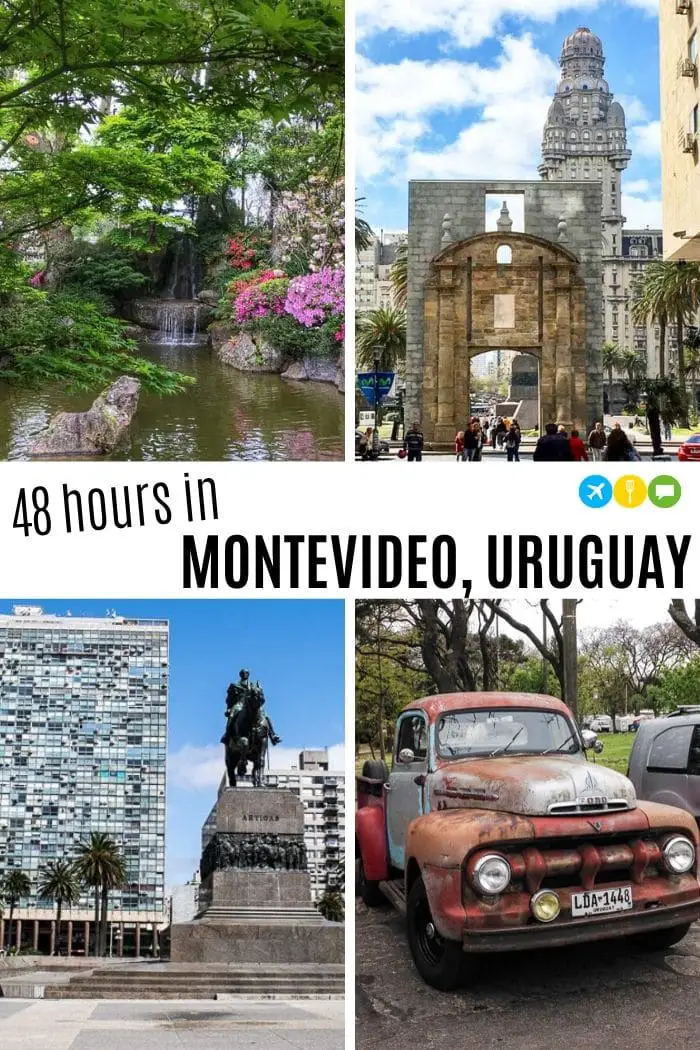 We arrived in the city at night, so before we began our tour we had the chance of eating the best parrilla of the whole trip at La Pulperia. It's a very small restaurant, simple and just amazing!
48 Hours in Montevideo
Day 1
In the morning we visited Parque Rodó. We were disappointed at this park, very dirty and kind of abandoned, so we didn't stay much time there. It was a Sunday so we went to Feria Tristán Narvaja, a street fair located downtown. There you can find fruits, vegetables, antiques, among other things. The fair is huge! Lots of blocks with everything you can imagine. Very cool! And even after having a big breakfast Isabella had a pancho, a traditional Uruguayan hot dog.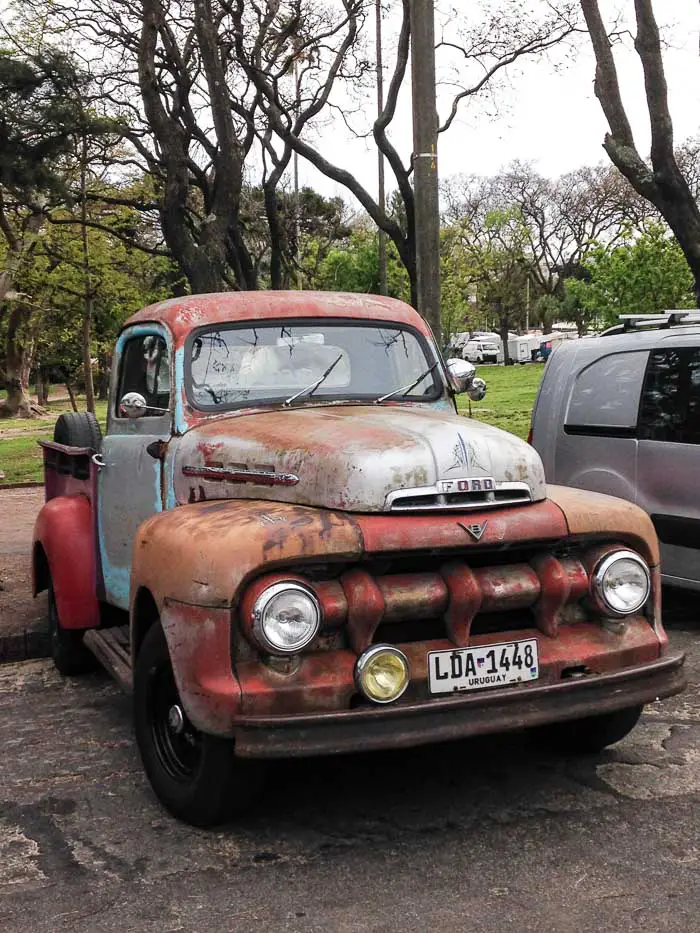 Have you booked your hotel?

We always choose our hotels as soon as we set the travel date to get great prices. And to do this we use Booking.com. It is the easiest way to search for available hotels, best location, and of course, the best price.
From there we went to Pocitos, a charming neighborhood in Montevideo, very nice to take a walk. We parked our car and went straight to the Rambla (the large avenue right by the river), and visited the Montevideo Sign. We had lunch at Pitanguero, a simple and excellent parrilla located in Pocitos.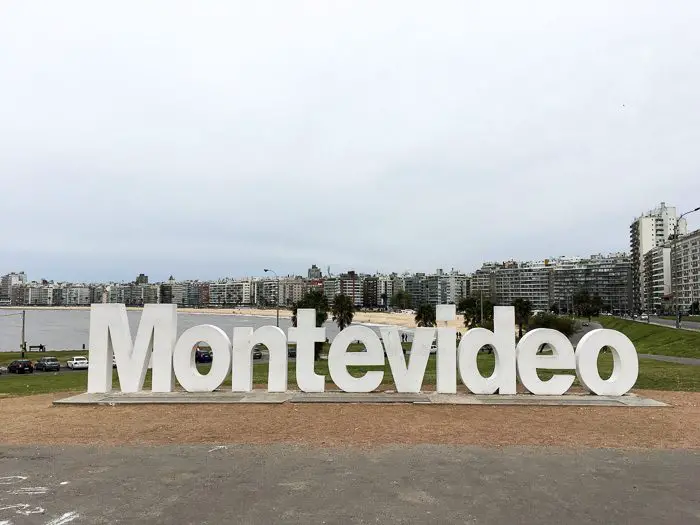 After lunch we went to have desserts at Hoy te Quiero. The place was crowded, but after a few minutes we were able to get a table. We ordered coffee and some sweets but we didn't like it very much. The sweets were pretty but bland in flavor. And the coffee... well, this information is for most places you go: coffee in Uruguay is not good (I'm sorry to say that, but it really isn't), so whenever you see options in the menu that serve Illy or Lavazza, pay a little more and order these!
After that we visited the Japanese Garden and Blanes Museum. One is right next to the other and are worth a visit.  Jardín Japones is small, but so pretty (we were there at springtime so it was even more beautiful). Museo Blanes is also small and it is a good chance for you to see some Uruguayan art. And best of all, both attractions are free!
From there we passed by Carmelitas church (it was closed 🙁 ) and Castillo Soneira, that is being refurbished. We then went to Tienda Inglesa, a famous supermarket chain. We just love going to supermarkets when we travel abroad!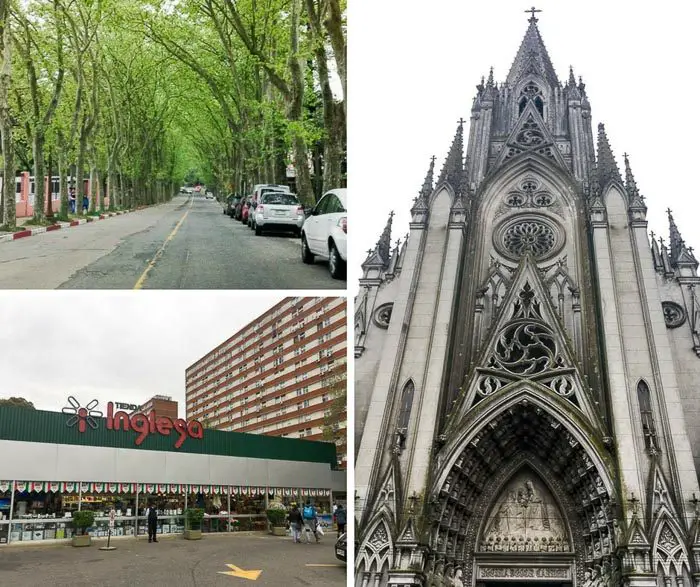 After buying some dulce de leche (you can make dulce de leche at home) and other treats we went for a ride at the Ramblas. Our dinner was at La Criolla, close to our hotel. It was very good, but the restaurant was empty and it was kind of weird. Maybe it was because it was a Sunday evening.
Day 2
After breakfast we went downtown. On our first stop we planned to see Montevideo from above at Mirador de la Intendencia, but it was closed (we went on a Monday and at this moment it opens only on weekends and the website was not updated with this info). We then went to our second item on the list, Mercado de los Artesanos. It is a small market but with a great variety of crafts from local artists. Is it worth visiting? In our opinion yes, if you are close by.
From there we went to the Old Town. We walked on 18 de Julio Avenue, one of the main avenues in Montevideo. At Plaza Independencia we visited Artigas Mausoleum (General José Artigas is considered the father of Uruguay). From the plaza you can see Palacio Salvo, that once was the tallest building in South America. We passed through Puerta de la Ciudadela (the old town gateway) and tried to visit Solís Theater, but it's not open on Mondays. So we just took a look outside. Very close by is Mas Puro Verso bookstore, and we got inside to admire the building's architecture. Then it was time to visit Ciudad Vieja (Old town).
We had lunch at Estrecho, a very small place but with amazing food. We know the most popular place to have lunch on this neighborhood is Mercado de Montevideo (the market), but we had been there twice on previous visits to the city, and besides that we have heard a lot about how touristy the place has become.
After lunch we went to Mercado Agricola de Montevideo (MAM), which is a public market with options to shop and eat. We then took the Rambla and went to Carrasco, a fancy residential area in Montevideo. There we knew exactly where we were going, Lavander Tea Room, a flower shop and tea room. We had an amazing afternoon tea. Highly recommended!
In the evening we passed by Disco, another supermarket chain (the one we went is located at Shopping Punta Carretas). We bought our dinner (some sandwiches) and went straight to our hotel to pack our bags to our next destination: Carmelo.
We stayed at Tryp Montevideo Hotel and highly recommend. For other hotel options in Montevideo you can check this link.
This post contains affiliate links. Every time you stay at a hotel through one of these links, I will get a small comission, and it won't cost you a thing.